Something relatively new at Grice Chiropractic is our Flexion Distraction Tables, which is somewhat of a newer Chiropractic tool and technique out there. While studying at Palmer College of Chiropractic in Iowa, I was exposed to flexion distraction and realized how much our patients could benefit from it. It was one of the few things that our office didn't have yet. So, to try to teach the "old man" (Dr. Grice) a new trick, I mentioned it, and with the excitement of the other doctors to get a new "toy" in the office, BOOM! 2 tables for your benefit!
            What types of pains and injuries would benefit from this technique? First, ask yourself if you fit into any of these categories: Disc Herniations, Spinal Canal Stenosis, Lumbar Spine Degeneration, Lumbar Facet Syndrome ("facet" being your lumbar "joints"), General low back pain and stiffness. If you have one, two or even a combination of these, this is a great tool to try and get your spine and nervous system as healthy as possible.
            What is Flexion Distraction, and how does it work? While on the table, mainly your lumbar spine is forced into flexion. This allows canal opening and disc re-absorption. (See the first image)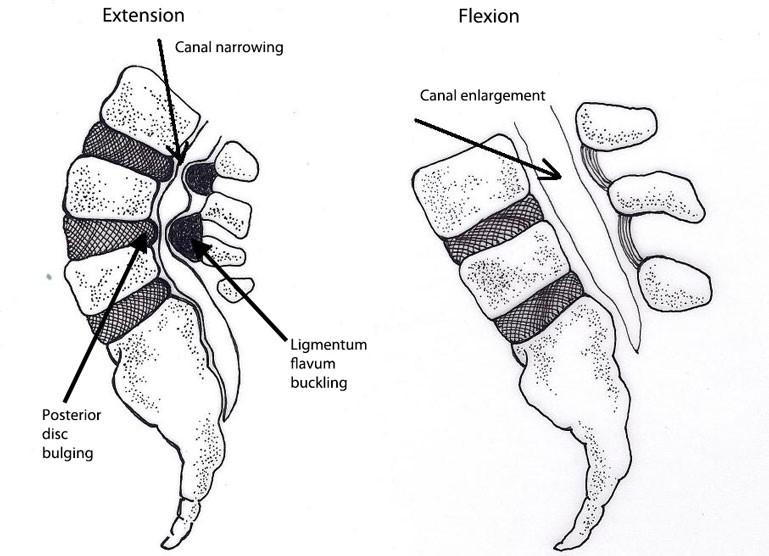 This will also move, and it works the intra spinal muscle that attaches to your spine. A very common response and reaction to this table the first few times is soreness. A way this can be described is like going to the gym. If you don't ever go to the gym, and one day you squat till you drop, walking and going up and down stairs the next day will most likely be a layer of hell for you. This is similar to what happens with the Flexion Distraction Table, but on a much smaller scale. The soreness and stiffness after the table is like a gym workout for those back muscles that are seldom used today. So, after working them "for the first time in forever" (say it like the Frozen song), you might be sore. However, the aftereffects are also like the gym. In return, you get a much healthier spine and possibly a lumbar disc.
            Disc Herniations can be a little tricky depending on how bad it is. There are a few types. Please take time to look at the second image.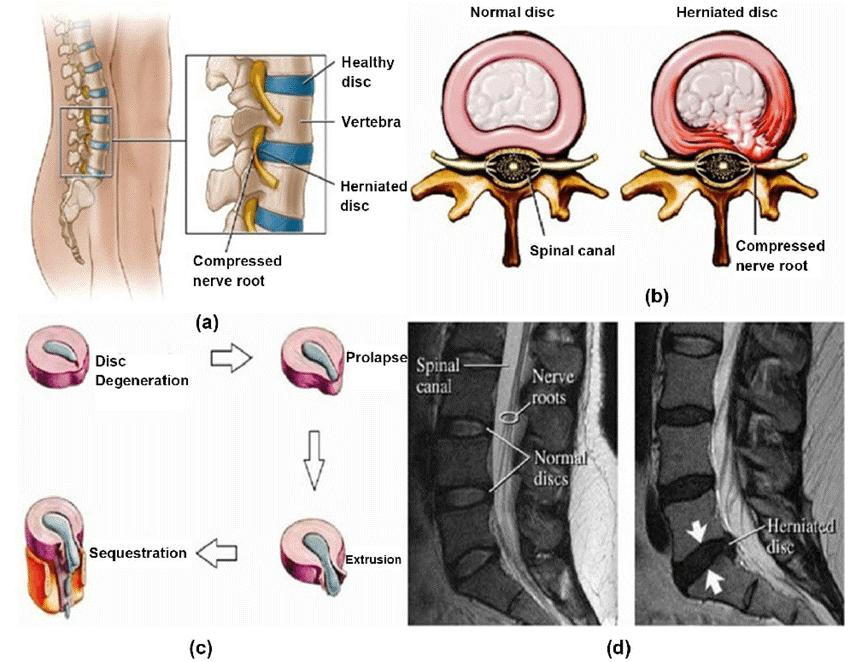 Depending on how bad the disc is, this determines how much we will benefit from this table. Let's say Extrusion is about a 50/50 chance between conservative chiropractic care and surgery, and Sequestration is a "Nice to meet you. I'd love to help your spine and body heal after surgery."
            Here at Grice chiropractic, when you come in, we adjust the source and not the symptom of your problems (this will be discussed in another blog, so stay tuned!) Radiation to the arms, legs, feet and hands are all spinal problems. Flexion Distraction is just another amazing tool in the Grice Chiropractic toolbox we can use to get you healthier and living your life!
***Here are some great sources and studies if you are interested in where I got this information. If you have any thoughts or questions, please come into an office, and let's see if we can help! We have the most amazing family-like team at Grice Chiropractic. Our goal is to help you in any way we can. Even if we know we can't help you, we can point you in a direction of someone we respect and trust who can do the job.  
1. J Phys Ther Sci. 2019 Aug;31(8):666-669. doi: 10.1589/jpts.31.666. Epub 2019 Aug 9.
Effects of the Flexion-Distraction technique and drop technique on straight leg raising angle and intervertebral disc height of patients with an intervertebral disc herniation.
2. Complement Ther Med. 2019 Jun;44:61-67. doi: 10.1016/j.ctim.2019.02.012. Epub 2019 Mar 31.
Short-term effectiveness of the Flexion-Distraction technique in comparison with high-velocity vertebral manipulation in patients suffering from low-back pain.
3. J Manipulative Physiol Ther. 2019 Feb;42(2):108-116. doi: 10.1016/j.jmpt.2019.03.003. Epub 2019 Apr 25.
The Variation of Cross-Sectional Area of the Sciatic Nerve in Flexion-Distraction Technique: A Cross-Sectional Study.
4. Effects of Flexion-Distraction manipulation therapy on pain and disability in patients with lumbar spinal stenosis
Jioun Choi, MS, PT, Sangyong Lee, PhD, PT, and Chunbae Jeon, PhD, PT
5. Chiropractic management using Cox cervical Flexion-Distraction technique for a disk herniation with left foraminal narrowing in a 64-year-old man
Allen M. Manison
6. Treatment of cervical radiculopathy with Flexion Distraction
Article in Journal of Manipulative and Physiological Therapeutics 24(3):206-9 · March 2001 with 43 Reads 
DOI: 10.1016/S0161-4754(01)27922-6 · Source: PubMed